What We're Reading Now
Start and End Your Day with a Pep Talk
18 December 2018
Eden read Gmorning, Gnight! and paused to appreciate a collection of pep talks from Lin-Manuel Miranda.
Tags: balance, eden read, happiness, poetry
I'm a big fan of Lin-Manuel Miranda. Before Hamilton, I knew him from his appearances in tv shows, like House and How I Met Your Mother. Among many things, Miranda is a talented composer, lyricist, actor, and playwright. And, I learned that in October of this year he published his first (not Hamilton-related) book: Gmorning, Gnight!: Little Pep Talks for Me & You.
Gmorning, Gnight! is a book of short affirmations—one to start the day and one to end the day. If you're familiar with Miranda's work, you'll appreciate the way this his writing style embodies the characters he often plays: smart, kind, and sassy. I found myself reading Gmorning, Gnight! in Miranda's voice and I was smiling about three pages in. I assumed that with its simple illustrations and colorful affirmations that Gmorning, Gnight! was a children's book. However, I realized halfway through that the book was written specifically for adults. It reminded me that like self-compassion, self-motivation is something to practice. And just as often as I tell myself, "it's okay," I should also be telling myself, "go for it, you got this."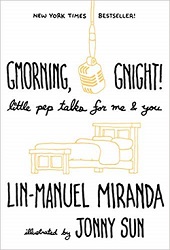 Because the affirmations in Gmorning, Gnight! are so easy to read, at first it was hard for me to tell if I was supposed to read the entire book in one sitting or read a page every now and then. But I think that a good approach would be to start reading and, if you haven't smiled yet, read a few more pages. In case you need a pep talk today, I've shared my favorite ones here:
"Gmorning!
Your mind is yours alone.
Do what it takes to make yourself comfy.
Build a library in there, play some music.
Make it your home.

Gnight!
Your mind is yours along.
Do what it takes to make yourself comfy.
Draw the blinds, kick out unwelcome guests.
Make it your home."

"Gmorning.
In your corner,
even in the roundest of rooms
On your side,
even if it makes the seesaw kind of boring.

Gnight.
Holding your hand,
even if it's sticky from jelly or honey.
On your team
even when you're playing solitaire."
After reading Gmorning, Gnight!, I also felt inspired to practice writing mini pep talks. So, using Miranda's format, I came up with a few of my own for this week.
Good morning.
You kept four plants alive
this year.
That's four more than last year.
Keep up the good work!

Good night.
You might not have a green thumb,
but you have a green name.
That's close enough.
And snake plants DO count!
And...
Good morning!
Time to drink some peppermint tea.
Take a deep breath and start your day.
I'm proud of you.
Good night!
Remember sleep is better than caffeine.
Take a deep breath and reflect on your day.
I'm proud of you.
What do you think of Miranda's book of pep talks for adults? How do you encourage yourself to keep going? I'd love to hear about it in the comments.