What We're Reading Now
Designing for Joy
19 February 2019
Eden read Joyful: The Surprising Power of Ordinary Things to Create Extraordinary Happiness by Ingrid Fetell Lee and thought about the design elements of joy.
Tags: eden read, happiness, the next big idea club
"What do you mean when you say 'design?'" I remember asking Rachel this question before I joined the Allison Partners team. We were talking about her background and work as a consultant, and I could tell that she was using a more robust definition of the word than I was used to hearing. Design, as I had always thought of it, had to do with aesthetics—namely graphic or interior design. Though I was correct that Rachel was talking about her experience as a graphic designer, I learned that she also used the word design to talk about a mindset and an approach to thinking, creating, and problem solving called design thinking.
This quarter, The Next Big Idea Club expanded my idea of "design" again with Joyful: The Surprising Power of Ordinary Things to Create Extraordinary Happiness by Ingrid Fetell Lee. Lee is a self-described expert in joy and the former design director at IDEO. Her book explores some of the answers to the question, "How do tangible things create an intangible feeling of joy?" Though I often think about how to design a space with a floorplan, how to design a meeting with an agenda, or how to design for an experience with a thought exercise, I had never thought about designing my life to foster an emotion, like joy. Lee's definition of joy is different than what I think of as the practice of happiness. She describes joy as "an intense, momentary experience of positive emotion." It's the feeling I get when I'm around stuffed animals, fluffy dogs, or plants.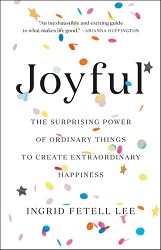 Sometimes I found Lee's chapters a bit tedious because she spends a lot of time describing very specific rooms or items; it was often hard for me to know exactly what she was talking about without stopping to search for an image. (It's a book that would have benefitted from some pictures.) However, her curation of joyful items into different categories helped me to identify what exactly I like about the things that bring me joy. My favorite design elements from Joyful are in the domains of Energy and Play.
Energy
The first element of joy that stuck out to me is color, which Lee suggests is one facet of what she calls "Energy." Lee says you shouldn't choose colors based on what others think. This means that instead of worrying that a color is too loud or trying to "go for a certain look," you should choose colors based on how they make you feel. In my wardrobe especially, I tend to stick to neutral colors because it's hard to go wrong with neutrals. However, I felt challenged by Lee to instead embrace the question, "What colors make me happy?" After all, I can't deny that the walls in our office that are painted bright colors, like the green wall in Rachel's office, always make me smile.
Play
Lee also believes that to foster joy, it's important to create an environment that encourages play. She says that sharp edges "may look chic and sophisticated, but they inhibit our playful impulses" because our brains associate them with lack of safety. Or, simply put, "You don't break into spontaneous happy dances in a living room where you risk splitting your shin on the coffee table." So, to encourage play, Lee recommends incorporating circles and soft edges into your designs. In addition to thinking about furniture shape, Lee recommends choosing décor with rounded frames or plants with circular leaves.
These are just two of the many design elements of joy that I found in Lee's book. In addition to Energy and Play, Lee also has chapters on Harmony, Freedom, and Surprise, just to name a few. Take a minute to consider the following questions:
What brings you joy?
Do you recognize any of these design elements in the things that bring you joy?
If you could redesign any room in your home, what changes would you make to your current space to make it more joyful?
I think Joyful would be a good book to read to if you wanted to design a work space, living space, or even wardrobe with the intentional purpose of fostering joy. If you're interested in learning more, Lee has "Joyfulness Worksheets" available for download at her website, AestheticsofJoy.com.