What We're Reading Now
Anticipating (and Preventing) Project Mishaps
16 August 2016
Janie watched Pinkcast 1.6: How to anticipate (and prevent) big mistakes and decided to try incorporating this technique the next time she's managing a large scale project.
Tags: dan pink, janie read, janie watched, project management
Project management is something that everyone deals with in some capacity. Even if you don't call it something as official-sounding as project management, I imagine that most of you are probably in the middle of one or more projects at work and/or at home right now. I know that I often have multiple balls in the air, and sometimes trying to stay on top of all of the details or keep everything on track doesn't work as well as I would like.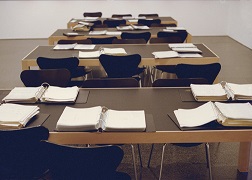 In Dan Pink's latest Pinkcast, How to anticipate (and prevent) big mistakes, he shares a concept that was new to me, the premortem. In a premortem, you debrief the project before you start, and think about all of the potential pitfalls and brainstorm ways to solve them before they happen. In addition to explaining how premortems work, Pink shared how he is using the technique as he writes his newest book.
I can think of many ways that this technique could be useful to me in my career, and I like the idea of dealing with the potential pitfalls in advance. I am a natural worrier, so it is never difficult for me to think of problems, and I think it might help me to get out of my head and take action if I focus on solutions for the potential pitfalls, instead of just worrying about the things that could go wrong. Pausing to deliberately consider the biggest challenges I might encounter and to proactively avoid them seems like a great way to save me time and stress later on.
I'm excited to experiment with this technique to see if it helps me to do more focused, mishap-free work. What are your strategies for managing large scale projects and avoiding pitfalls along the way? I'd love to hear about them in the comments. I'm always eager to learn new strategies to add to my repertoire.