What We're Reading Now
words (that) matter
26 November 2013
Rachel (and Allison) took time in these days before Thanksgiving to reflect on some things that matter. Among them, words.
Tags: communication, culture, leadership, rachel read
You've probably heard: we recently opened a new office. Among all of the things we appreciate about it — the space for a larger team, the large windows overlooking wooded areas, comfortable spots for all sorts of conversations — is a long wall. That wall serves as a canvas for displaying some words and phrases with meaning to us, and having a visible reminder of things that matter is one of the ways we stay connected to our personal and professional values.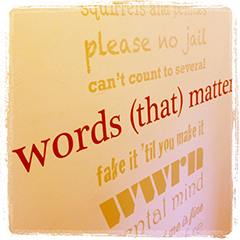 We call our wall "words (that) matter" to signify both that we believe that using language deliberately is one of the most significant choices we make when communicating and that there are some words with special meaning to us. That might get you wondering: "Just what words do we think matter at Allison Partners?" In general, the list is fairly simple. Please. Thank you. Welcome. I'm sorry. Calling people by name. (Not the words, "Calling people by name," but rather the act of learning and using people's names.)
The world would be a better place if we could remember to be careful with our words even (especially) when we're least equipped to be careful. That's a lifetime's work, and we're on the journey right alongside each of our clients.
In addition to those general words, there are the special words and phrases with meaning to us. Things like, "Can't count to several," which we learned from Allison's niece and reminds us that clarity in expectations is all in the eyes of the beholder. Or "Mental mind," our phrase that describes the gap that sometimes exists between the stories in our minds and the reality of a situation and its circumstances.*
Today, we're taking the day to retreat.** To think big (and small) thoughts, to use our words wisely, to dream about the future and to be grateful for the paths that have led us here. In the process, we're thinking about the things that matter, and charting a course for the Allison Partners team that we hope will help us all continue to make a difference. I can't think of a way that I'd rather prepare to celebrate Thanksgiving.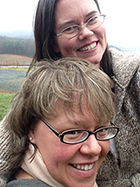 * We'd love to share more of our words with you. Give us a call or stop by the office on Cedars Court.
** Central Virginia is home to many breathtaking vistas. Many thanks to the owners of Moss Vineyards for allowing us to visit their hilltop today.