What We're Reading Now
What is Ethics?
21 March 2017
Allison watched Greg Brozenske's latest animation and remembered that reading things is good, but sometimes seeing things is better.
Tags: allison read, allison watched, courage, ethics, leadership
Greg Brozenske is an artist, the founder of Un-Reality.com, and one of our most talented partners. He created this animation to describe what we do at Allison Partners, and I still think it's the best way I know to explain how we help with the messy, complicated, wonderful people stuff.
Once again, Greg has used animation to shed light on a hard to explain concept—ethics. You know it when you see it (or don't), right? But if I asked you to define ethics or to teach someone to make ethical decisions, I bet that might feel a bit daunting.
The University of Virginia Darden School of Business asked Greg to create this animation to set the stage for its first-year Ethics course. In less than eight minutes, you'll learn about the four main traditions within ethical theory and how to use them to make decisions. "For most people and cultures, none of the four traditions alone provide a complete set of moral considerations by which to live."
Sometimes I think we believe that someone either is or isn't ethical, that he or she does or doesn't make ethical decisions. That might be true, but I'm pretty sure it's more nuanced than that. "Many leaders want to do the right thing, but sometimes the right thing to do is not clear."
When faced with something morally ambiguous, I imagine a lot of us go through some kind of a decision-making process. I know my own method is often time-consuming and sometimes overwhelming. The next time I'm wrestling with how to do the right thing, I'm going to take myself through the four main traditions and see if that makes my decision-making feel a little less fuzzy, helping me "to more intentionally create the world I desire with others."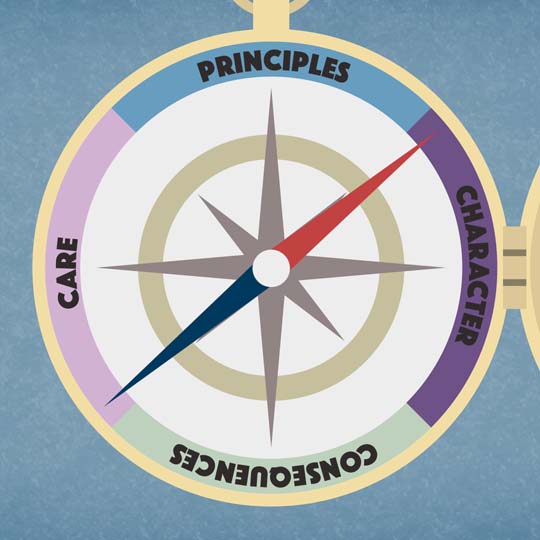 It seems that right now many people I talk to are wrestling with difficult issues and working hard to make good choices. While I can't promise that watching a video about ethics will make all your decisions easy and fun, I do know that sometimes it's useful to have a common language to help us talk about our options and why we do the things we do. So find a friend, pull up a chair, and watch together, or simply share the link with a friend or colleague. It might make a world of difference.