What We're Reading Now
Positive Leadership
18 February 2020
Janie read Positive Leadership: Strategies for Extraordinary Performance by Kim Cameron and considered his strategies to be a more compassionate leader.
Tags: ed hess, janie read, leadership
As I considered today's potential blog topic, Positive Leadership: Strategies for Extraordinary Performance by Kim Cameron caught my eye. I've had a copy of this book for a while but had never read it before. Ed Hess used to give a copy to everyone who attended his Executive Education course Servant Leadership: A Path to High Performance at the Darden School of Business. This course used to be one of my favorite programs to manage when I worked at Darden because the subject matter inspired me. I'm always looking for inspiration in my reading and hoped I'd find some in this book.
Cameron described the concept of positive leadership as "the ways in which leaders enable positively deviant performance, foster an affirmative orientation in organizations, and engender a focus on virtuousness and the best of the human condition." Put more simply, positive leadership emphasizes a focus on strengths and capabilities as well as positive communication. Some of the programs we've been supporting lately at Allison Partners incorporate this thinking through use of Gallup's CliftonStrengths® assessment. It's been interesting to notice how a shift in language from talking about gaps to talking about strengths changes some conversations for our clients.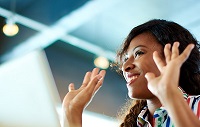 Cameron described four positive leadership strategies in this book. The one I found most interesting was "cultivating a positive climate." Cameron said the most important steps for nurturing a positive climate are fostering compassion, forgiveness, and gratitude. Compassion and forgiveness didn't surprise me, but I was a bit surprised by gratitude. I've long heard about the impact gratitude can have on overall happiness, but I was not aware of what a dramatic affect it can have on performance. Cameron shared a fascinating study conducted in 2003 by R. A. Emmons. Emmons assigned students to keep journals as part of a semester-long experiment. Some of them were instructed to write down events that happened during the day for which they were grateful, other students were assigned to write down incidents that occurred during the day that were frustrating, and a final group of students were assigned to write down events or incidents that were simply neutral. The students who kept gratitude journals (compared to the frustrated and neutral journals) experienced "fewer headaches and colds, felt better about their lives as a whole…were more alert, attentive, determined, engaged in more helping behavior toward other people, experienced better sleep quality, and had a sense of being more connected to others. This group overall also was absent and tardy less often and had significantly higher GPAs." Those are some impressive results from gratitude journaling! Emmons also found that expressions of gratitude by one person tended to motivate others to express gratitude as well, creating a continuous positive effect.
Not only did I find this study fascinating, it really encouraged me to increase the ways that I show gratitude, particularly with my family and my team members at work. This is something small and easy to implement and I love the idea of adding this practice to my morning pages.
I think being a leader is a continuous journey and I'm always looking for new references to help me on my own path to be a better leader. I find the concept of positive leadership appealing because my natural tendency (like that of most humans according to Cameron) is to the see the negative first. Pushing myself to see things with a different lens makes me a better, more compassionate leader. If you're interested in learning more about positive leadership, I encourage you to read Positive Leadership: Strategies for Extraordinary Performance by Kim Cameron. It's a quick read and filled with practical takeaways for being a more positive leader.