What We're Reading Now
Finding Inspiration in Unexpected Places
10 October 2017
Janie re-read The Little Engine That Could by Wally Piper, and was reminded that we can find inspiration everywhere if we just pay attention.
Tags: inspiration, janie read
My older son, Charlie, had surgery last week, so we spent a fair amount of time resting, and we read lots of books. One of the books we read was an old favorite of mine, The Little Engine That Could. I've always loved this book. When I was younger, I loved the illustrations and thought it was a fun story. When I was reading it to my son last week, I found myself inspired by the story of the little engine.
In case you're unfamiliar with the story, it tells the tale of a train carrying several cars filled with candy and toys and all kinds of wonderful treats for children that gets stuck on the wrong side of a mountain. The train engine that is pulling the cars breaks down. The toys call out to every passing engine they see asking for help, but all the engines say no. Finally, a small blue engine comes along, and even though the little engine has never been over the mountain before, she thinks she can do it, and offers to help. She slowly pulls off, all the while cheering herself along by saying, "I think I can - I think I can - I think I can - I think I can," and she makes it over the mountain!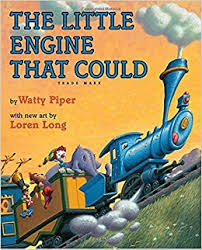 I found myself thinking of this story after I put Charlie to bed, and reflecting on the lessons I learned from the little engine. When I'm trying to do something hard, believing I can do it is a good way to get started. I'm a big fan of mantras to help combat negative self-talk. "I think I can" is a pretty good mantra for pushing through when things feel hard. I'm so glad Charlie picked this book off the shelf; it gave me a dose of inspiration I didn't even realize I needed. Do you have a favorite children's book?