What We're Reading Now
A Study in Contrasts
1 January 2020
Rachel added to her cookbook collection, appreciating the chefs and authors who inspire, teach, and challenge her. How will you be nourished in 2020?
Tags: rachel read
This holiday season, I received two additions to my cookbook collection: The French Laundry Cookbook by Thomas Keller and Nothing Fancy by Alison Roman. Both Keller and Roman are known for delighting people with their food, but in very different ways.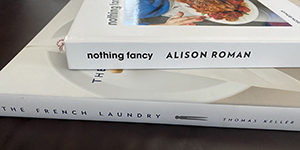 Keller's signature restaurant followed behind legends like Alice Waters, taking farm-to-table California cuisine to another level with a massive kitchen garden (some might call it a farm) and elegance and precision on each plate. As the title of her second cookbook suggests, Roman's approach is anything but precise; for starters, she rejects the term 'dinner party' for the more casual 'having people over.' Yet despite the difference in style, both chefs describe the role that food plays in bringing comfort, building community, and expanding horizons.
It's a good reminder that some things unite us, that different approaches can lead to similar ends. And, to me, that study in contrasts is a big part of what makes life (and food) such a grand adventure.
However you feed body and soul, may your 2020 be well-nourished.