What We're Reading Now
A Lesson in Grit
1 July 2019
Rachel read Flying High by Julian Edelman with Assaf Swissa and illustrated by David Leonard. Wrapped in this fictionalized tale of a favorite wide receiver is a powerful message about practice and perseverance.
Tags: picture books, rachel read, resilience
Have you ever wanted to do something that seemed just out of reach? If so, you have a little something in common with Jules the squirrel, who caught sight of a football laying in the grass and knew he wanted to be on the field. It's not a big surprise that the eagle, the buffalo, and the bear all tell him that he's not cut out for the job. Fortunately for Jules (and for Patriots fans everywhere), a certain goat named Tom encouraged him to practice (and practice some more) until a wise owl blows his whistle and puts Jules into the game. Touchdown!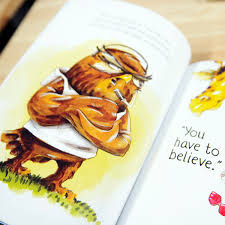 I'll confess that my affection for Flying High is largely a function of admiring the players on which it's based. That said, reading about this little squirrel's bounceback—the ability to be really and truly sad, and then set it aside and do the work to try again—gets me every time. And when I need a little pick-me-up, someone like Tom the goat to say, "I saw what just happened, but don't be discouraged. … Working hard leads to success," sometimes the squirrel is all the inspiration I need.
. . . . . .
My word for June was kind. It was good, and I could use a little more, so I'm keeping my focus on kindness for July. As the squirrel reminds us, persistence counts.