What We're Reading Now
24 January 2011
Rachel pulled John Kotter's Leading Change off the bookshelf. It's a change management classic.
Tags: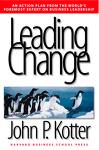 I'm wrapping up a management assessment for a client, with recommendations big and small about ways to improve the organization and support the work of the people in it. As they face the big challenges ahead, what better reference for the journey of change than Kotter's modern-day classic Leading Change? (Unfortunately, our team at Allison Partners still relies on good, old-fashioned patience and hard work to navigate change; when we find the magic wand that will do it effortlessly, we'll let you know.) With his practical, understandable eight-step process, Kotter introduces the principles of change management theory and shares helpful tips along the way. As an introduction or a refresher course, it doesn't get much better than this.
And if you want a double-dose of thinking about change, try reading Switch as a companion book. It made an appearance right here on our blog on May 19th.