What We're Reading Now
To Type or Not to Type
13 February 2018
Eden watched Pinkcast 2.2: Why You Should Take Notes By Hand and reflected on the benefits of taking handwritten notes.
Tags: dan pink, eden read, eden watched, learning, writing
This week I watched Dan Pink's Pinkcast 2.2: Why You Should Take Notes By Hand where he asks himself, "Should I be taking notes using my trusty laptop computer or should I instead be taking notes the old fashioned way—with a pencil and paper?" It's a great question and it's one that I've asked myself many times over the years.
These days it's rare that I attend a lecture or meeting where someone isn't taking notes with a laptop, tablet, or even cell phone. And when you think about note taking in terms of convenience, it's easy to see why these technologies are so popular. When you type you can keep up with a speaker almost verbatim, you don't have to worry about ink smudges or making your notes legible, and it's much harder to misplace a laptop than it is a notebook. However, Pink recommends that if you want to maximize comprehension, you should put the laptop away.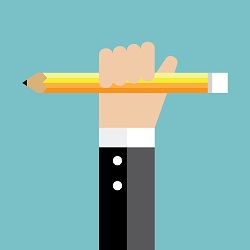 That's because research suggests that the work of taking notes by hand helps the note taker to recall information more quickly and have better notes for reference. Pink says that when we take notes using paper and pen, "we can't write as fast as most people can talk, so we can't transcribe. What do we do instead? Here's the key. We summarize, we synthesize, we recap, we put things into our own words, and that's the magic."
One strategy I have for taking handwritten notes is to stick to one planner or notebook. Even though I like the idea of having one small notebook for each project, I've found that when it comes to keeping track of what I write, it's much more practical for me to keep all of my notes in one book. If you're taking notes on a handout or loose leaf paper, another strategy is to take a picture of your handwritten notes. This way, they are easy to reference, and you don't have to worry about misplacing them.
What do you think of Pink's advice? Have you seen research that supports taking notes on a laptop? I look forward to seeing your thoughts in the comments below.