What We're Reading Now
What Obama is Reading Now
27 January 2017
Eden read Obama's Secret to Surviving the White House Years: Books, and learned how the president found solidarity, fostered empathy, and sometimes escaped the pressure of his job through reading.
Tags: books, eden read, empathy, obama
At Allison Partners, we like to use our blog to keep you up to date with what we're reading, and this week, we enjoyed an article written by the New York Times' chief book critic, Michiko Kakutani, after he sat down with Barack Obama to talk about books. If you don't have a New York Times subscription, it's worth using one of your ten free articles per month to check out what Obama had to say about the impact reading has had on his life both before and during his presidency. You might be surprised by some of the literary works the interview mentions. They span from presidential biographies and economics, to sci-fi and Shakespeare. However, more significant than any book suggestion, President Obama's interview reminded me of how the individual stories we read can help us to build empathy and, in aggregate, give us the gift of multiple perspectives.
I appreciated Obama's candor when describing exactly what books have meant to him through the years. Growing up, reading helped him to form his identity as a black American. He also found that years later, reading about alien invasions could help him take his mind off the pressures of the job, even as president. Throughout his interview, however, Obama maintained a focus on how stories provided him with perspective and empathy, "the ability to get into someone else's shoes." He believes these are two of the most important things reading has given him.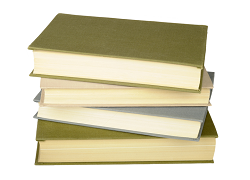 Most books are written to share stories and information from the author's point of view, even if this is accomplished through a fictional narrative. However, perspective and empathy aren't usually what I go looking for when I pick up new books. For example, I enjoy economics. That's why it is unremarkable that out of all the books Obama mentioned, I felt drawn to Thinking Fast and Slow, the one book written by a Nobel Prize winning economist. Books are great for building expertise. They are also great for providing comfort with familiar words and messages. But reading to gain perspective and build empathy? Sometimes that takes a little bit of extra effort on my part.
After reading Obama's interview, I was thankful for the opportunity to reflect on the reasons why I read. Typically, I read because I want to know more about a topic that already interests me. Thus, I limit my book search to the most highly recommended, research-based books within narrowly drawn fields. But, what if I read because I wanted to gain perspective and build empathy? Then, I would have to reach for stories that are entirely new. I'm looking forward to checking out some of the books that Obama mentioned—beyond the one that initially caught my eye. What books have you enjoyed lately? I'd love to hear from you in the comments.