What We're Reading Now
What Kind of Manager Are You?
16 January 2018
Eden read The New One Minute Manager by Ken Blanchard and Spencer Johnson and learned that good managers help others become good self-managers.
Tags: eden read, management and supervision, productivity, time management and prioritization
You may have noticed that we have a reading list of our all-time favorite books on the Allison Partners website. These books range in topics from communication to inspiration and are a great introduction to some of the ways we like to think about work and development. One of the books on our list is the management classic, The One Minute Manager, by Ken Blanchard and Spencer Johnson. I decided to read the updated version of this book, The New One Minute Manager, and found that these books are as similar in content as they are in title.
The One Minute Manager and The New One Minute Manager both provide three easy to digest techniques (the authors call them "secrets") on how you can build management capability whether you're in a management position or just looking to gain insight into the ways that managers think. Since I'm not in a position where I manage others, I decided to take the tips and apply them to the person I do manage—myself.
The first secret I learned from The New One Minute Manager is to make "One Minute Goals." One Minute Goals are goals you set together with your manager that can be articulated in a few sentences and are tied to a specific due date. The authors suggest that you have no more than 3-5 One Minute Goals and that you write each goal down on a single sheet of paper, so you can review them periodically. I thought this was a useful tip because it's an easy way to orient yourself toward long-term thinking before you start your daily to-do list. The best part of this management technique is that it teaches you to provide yourself with real time feedback. This can be especially helpful if you work remotely from your team, like I sometimes do. Instead of waiting for someone else to tell you that you're doing a good job, you can compare your actions to your One Minute Goals to assess your progress.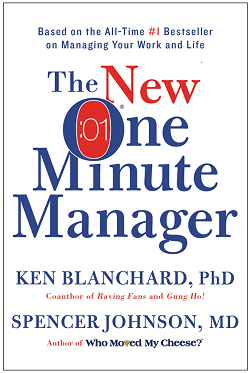 Something I'd like to accomplish in 2018 is to become better at managing the work I do each day so that it is in line with my long-term projects. Typically, I use simple lists to keep track of my work. However, I've noticed that as my projects become more complex my self-management strategy is not always sufficient for the job to be done. Short-term items tend to become pet projects, while important but non-urgent tasks tend to be put onto tomorrow's to-do list until they themselves become urgent. I've learned that even though there might be less pressure moment by moment, it is much more difficult for me to stay immersed in multiple projects over long periods of time than it is for me to focus on successive sprints. As I continue to work on my development, I'm going to try One Minute Goals as a way to give myself real time feedback on long-term projects.
At about 100 pages, The New One Minute Manager is a quick read for anyone who wants to do his or her job "better and sooner." The story of The New One Minute Manager focuses on three secrets for managing others. However, each secret is narrated not by the manager, but by one of the people on the manager's team. I think that including both perspectives, the technique of the manager and the reaction of the "managee," helps the reader to gain a robust understanding of what good management and good self-management look like.