What We're Reading Now
Tips for Better Productivity
12 September 2017
Janie read Getting Things Done: The Art of Stress-Free Productivity, and was pleased to find that she learned some valuable tips for better project management.
Tags: david allen, email, janie read, productivity, time management and prioritization
I am always looking for better systems to manage my workload and stay on top of the three email accounts that I manage in my role. Allison has blogged about David Allen's book Getting Things Done: The Art of Stress-Free Productivity many times, and I wanted to see why she, and so many of our clients, have had such success with his system.
I sometimes struggle with staying on top of project work when I reach steps that require input from other people. I am good about making the initial ask when I need something, but not always very good about following up in a timely fashion when I don't hear back on the request. My favorite tip from Getting Things Done, recommends keeping a "waiting for" list for managing these types of tasks. I now have a "waiting for" folder in my inbox to help me keep track of how much time has passed since I made a request. I am a big fan of cleaning out my inbox each day, so I really like this system of keeping track of ongoing projects, while not clogging up my inbox.
Another tip that I have found to be very useful is Allen's 2-minute rule. Allen recommends when processing email to do all tasks that will take less than 2 minutes right away. In my role, I receive quite a few emails that take less than 2 minutes to process and respond to. I've found that I'm more effective at my job when I dedicate time to processing email and do as much as I can during the window I've allotted. There will always be things I must come back to because they require more than a 2-minute response, but using this system means that I am able to keep my inboxes much less full, and I know that if something is still sitting in my inbox after processing, it's an actionable item that I need to come back to when I have a bit more time.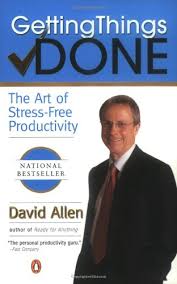 If either of these tips sound interesting to you, I recommend reading Allen's book, or checking out some of the free articles on his website. He has many other systems and suggestions for better productivity.