What We're Reading Now
Seven Good Words for 2019
1 January 2019
Rachel read Tomorrow I'll Be Brave with words and pictures by Jessica Hische. Not only did it help her consider her intentions for the year ahead, it also inspired a new monthly feature for our blog.
Tags: mindfulness, picture books, rachel read
I've always had an affinity for children's books, and the collection of picture books in my office grew quite a bit in 2018. At a time when our public discourse often feels contentious, convoluted, and challenging, I think perhaps the simplicity of words and pictures designed for the youngest among us can feel even more poignant. As we often say at Allison Partners, words matter, and the creators of the best children's books make every word count.
Just before our holiday break, I added Tomorrow I'll Be Brave with words and pictures by Jessica Hische to my collection. A lettering artist, Hische developed this book when her daughter was young, hoping to create a bedtime book to help readers reflect on the day and set intentions for the next. She offers seven suggestions for how we might be: adventurous, strong, smart, curious, creative, confident, and brave. That's a pretty good list—I'd be pretty glad to be any (or all) of those things.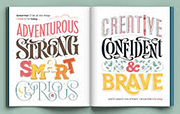 As Hische introduces each word, her simple text gives an example of how it might manifest. "Tomorrow I'll be smart," she writes. "I'll think before I act. I'll solve a puzzle, read a book, and learn a fun new fact!" This practice of describing "what it looks like" is a lot like what we encourage people to do when they are setting goals or providing feedback. When coaching clients say they want to be more focused or positive or balanced or organized or pretty much anything else, our work is often helping them discover just what that would mean.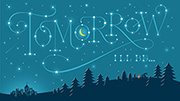 I don't often make a deliberate New Year's resolution, but I'm trying something new for 2019. Hische's work reminded me of Gretchen Rubin's The Happiness Project, and I'll be experimenting with setting an intention each month to help me make better, happier, healthier choices throughout the year. As January gets underway, "Tomorrow I'll be aware," I say. "I'll take a look around. I'll take a breath and notice things and make time to write them down." As you enter the new year, how will you be?
. . . . . .
That growing pile of picture books isn't all for frivolous fun and entertaining some of our younger office visitors. Beginning with this post, watch our blog on the first of every month to read about one of my current favorites and some reflections on the lessons that the simple words have for grown-ups, too.