What We're Reading Now
Overcoming Chronic Lateness
20 August 2019
Janie read Are You Chronically Late? 8 Tips for Showing Up on Time by Gretchen Rubin and recognized some of the underlying beliefs and behaviors that get in the way of being on time.
Tags: gretchen rubin, productivity, time management and prioritization
I've been thinking a lot about routines as we get ready to start another school year. (It's hard for me to believe that school starts again tomorrow!) I have goals about being better organized in certain ways this year, and one of the things I've been thinking about is how to make a few changes to our morning routine, so things aren't so hectic and it doesn't feel so much like a mad dash to get out the door. I was delighted to find Are You Chronically Late? 8 Tips for Showing Up on Time on Gretchen Rubin's blog, because it lines up so well with some things I've been thinking about.
Rubin said that if you find yourself always running chronically late, the first thing to do is understand why, so you can find solutions to help with the underlying issue. I definitely struggle with chronic lateness, and I think there are a few reasons why. When I'm at home, we're often running late because something is missing. Rubin said, "Nothing is more annoying than searching for lost objects when you're running late." I couldn't agree more. She recommended designating a specific spot for key items, so you always know where they are. I've already talked with Charlie about making sure he always puts his shoes in the same place. (Not knowing where his favorite shoes are is often the thing that makes us late to the bus in the morning.) Implementing these tips with young children is often easier said than done, but we are working on it!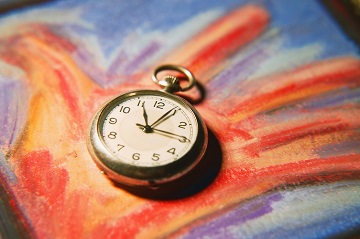 Although I was drawn to this article because of my focus on getting back into a school routine with my kids, chronic lateness is something I struggle with at work as well. When I'm at work, I'm often late because I try to get one last thing done before I walk out the door, and I don't really have enough time to do that one thing. Rubin's suggestion for this habit is to take a task that you can do when you reach your destination and leave early. This is something I had never considered and am planning to test with my next meeting.
Rubin shared many other observations about things that contribute to chronic lateness and tips to overcome it. In the interest of putting my new tip into practice, I'm setting the article aside (for now) so I'm not late for my next meeting. Here's to being on time!