What We're Reading Now
How to Live a Love Letter
1 February 2020
Rachel re-watched Sonic Highways and was reminded of things the Foo Fighters taught her about music, storytelling, passion, and finding your way.
Tags: communication, rachel read, rachel watched
When it was first released in 2015 on HBO, some critics called Sonic Highways a love letter to American music. This documentary series (and the album that followed) featured the Foo Fighters as they visited eight significant music cities in the United States — Chicago, Washington D.C., Nashville, Austin, Los Angeles, New Orleans, Seattle, and New York — to meet and be inspired by the people and places that have shaped our music history. At each stop, Dave Grohl (together with Taylor Hawkins, Nate Mendel, Chris Shifflet, Pat Smear, Rami Jaffee, and producer Butch Vig) wrote and recorded a song reflecting what they'd learned and experienced.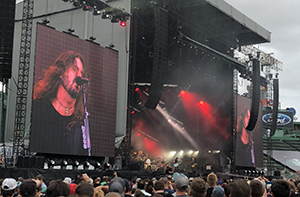 I'm a Foo Fighters fan for many reasons, and several of them are on display in Sonic Highways. But more than anything, watching (and listening) is a great reminder that love is a verb. This time of year, we often think about elementary school valentines and other words of affection. In their pursuit of the music, Grohl and the others show us what it means to live a love letter.
Ask... and listen. Even after several viewings, I'm amazed by the stories told in Sonic Highways, most of them prompted by Groh's questions of those he interviews. He goes in search of the story, and his curiosity is rewarded with a glimpse of music history and words that became song. The first time I saw a lyric with a direct reference to a snip from an interview, I got chills. People will tell you the good stuff, but you have to listen to hear it.
Let yourself be changed. While most would agree that the Foo Fighters tend toward alternative rock, their musical versatility is on display in Sonic Highways. Being on set of Austin City Limits is different than recording in Preservation Hall, and the band's willingness to flex doesn't diminish their sound. By being influenced by people and place, they grow.
Spread it around. Throughout the series, we see examples of generosity. Whether it's a band member giving a kid an up-close view of a studio, or simply the give-and-take of making music, there's never a moment where the music feels exclusive or in short supply. Sharing your passion begets more.
Love letters take all shapes and sizes. They can be romantic or professional, full of gratitude or admiration (or some of both). This February, I hope you have reason to write a love letter or several to a friend, a partner, a family member, a colleague, or anyone else who matters to you. More than that, I hope you find ways to live your love letter. Happy February… and all year long.